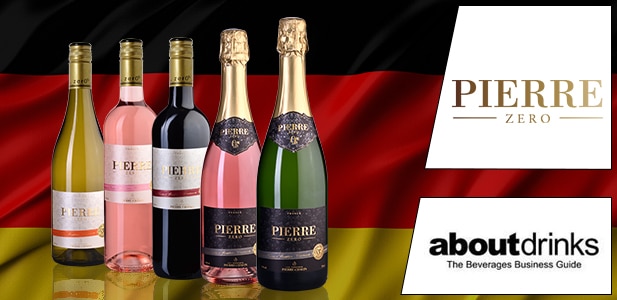 The demand for alcohol free wines and sparkling wines is higher than ever, whether it be for dinner in a restaurant or for a drinks party, celebration or other event. This young start up business is now organising alcohol-free evening events. Thanks to Pierre Zéro, hotels, restaurants and caterers can now offer their guests unrivaled pleasure with 0.0% alcohol by volume. Since February 2017, wine merchant Jochem Seeger has been the importer for the Pierre Zéro range of alcohol free drinks by Pierre Chavin.
Pierre Chavin, based in the southern Languedoc region in France, is the market leader for alcohol free drinks in France. "In Germany we are just beginning to develop distribution in specialised retail markets. These products are already selling well online", explains Jochem Seeger.
The dealcoholization process preserves the aromas and eliminates the alcohol
The Pierre Zéro range consists of two sparkling wines and five still wines. The sparkling wines are available in Blanc de Blancs and Rosé. As for the wines, the selection is composed of the three classics in White, Rosé and Red as well as two Grande Réserve wines – one Red and one White. Their defining characteristic is their 0.0% alcohol by volume. "Thanks to the dealcoholization process, the aromas are preserved even though the wines are completely dealcoholized and contain no residual alcohol whatsoever. This sets them aside from other so-called "alcohol-free" beverages which can contain up to 0.5% residual alcohol by volume" explains the importer.
A splash of colour is on the cards for the second product line "Perle de Chavin". These three sparkling wines are available in White, Blue and Pink and created using natural colouring. Bilberry extract is used to give Perle Bleu its enticing shade of blue whilst Perle Rose takes its bright pink hue from rose petal extract.
A success as of the first sip
The popularity of non-alcoholic drinks is on the rise and Jochem Seeger is convinced that Pierre Zéro and Perle de Chavin will be a huge success with consumers in Germany, not only thanks to their 0.0% alcohol content but also because of their taste. "When I discovered Pierre Chavin at a local trade fair in the Languedoc, I immediately realised that there was no other product of its kind in Germany. We then presented a concept in France that was highly influenced by marketing." In 2017 the importer launched its online sales channel. This year the emphasis will be placed on expanding its national distribution in specialist retail outlets and in the HoReCa sector. The company has also become a supplier for the GES wholesale cooperative for the confectionary and drinks sector. "Our objective is to double sales every year and make Pierre Zéro the market leader in this market segment", continues Jochem Seeger. In order to do so, the Oberursel-based wine merchant is implementing a marketing strategy aimed at specific groups.
The Pierre Zéro Germany team has already exhibited at various trade fairs and conventions in 2017 including Eat & Style and Babywelt in Stuttgart and Chefsache in Düsseldorf. Numerous other trade fairs are on the agenda for this year: Babywelt will be held on seven different occasions and there will also be large consumer exhibitions focussing on the wedding and restaurant sectors, as well as ProWein for industry professionals. In order to strengthen the brand's image with consumers, the team will also be turning to social media, influencers and media relations.
Discover the article on about-drinks.com