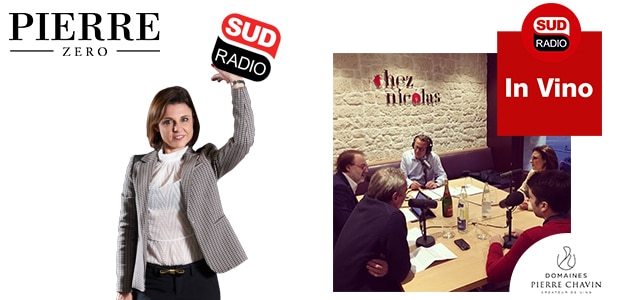 On Saturday 18th February, Mathilde Boulachin, owner of Pierre Chavin, was invited to take part in well-known radio show In Vino on Sud Radio. Recorded at the Nicolas wine shop in Place de de la Madeleine in Paris, Mathilde presented the Pierre Zéro range of alcohol-free wines to Alain Marty, David Cobbold and Philippe Faure-Brac, who was awarded the prestigious title of World's Best Sommelier in 1992.
Pierre Zéro was not a new discovery for Mr Faure-Brac who had already had the opportunity to taste this de-alcoholized wine based drink on another program, La Quotidienne on France 5.
How did the idea come about to create a range of wines such as this? Who is the main target consumer ? Where are the wines sold ? Mathilde Boulachin answers all of Alain Marty's questions in a relaxed and informal interview.
In Vino Sud Radio would like to welcome Mathilde Boulachin who created the alcohol-free wine company, Pierre Chavin. Hello Mathilde.
You are now based in Béziers even though you are originally from the Champagne region.
And before setting up your own company, you were a wine buyer.
Yes, I was wine buyer for the monopole group Systembolaget.
And then one day you made the decision to start your own company. Could you tell us about that?
It was almost 6 years ago, although I had always known that I wanted to start by own business.
Were your parents entrepreneurs, maybe?
No, they are winemakers in Champagne.
Could you tell us more about the Pierre Chavin range?
First I would like to say that we do not only make alcohol-free wines. We also produce traditional, alcoholic wines. The idea behind alcohol-free wines is quite simple and that is that, in France today, as well as internationally, there are many people who no longer drink wine, despite the fact that wine consumption is deeply engrained in our culture in France. These people still respect and appreciate the custom of consuming alcohol even though they are no longer able to consume it themselves.
Do you mean those who no longer can or no longer want to ?
Those who no longer can, no longer want to, those who are unable due to medical treatment or women who are pregnant or breastfeeding, they are so many reasons. The idea was to create something for these people. People who like to enjoy life's pleasures and want to drink something other than a soda.
So it can't be called a wine then as there is a legal definition for the term wine.
That's right, technically speaking it is a beverage made from de-alcoholized grape juice.
How is it made?
We produce the wine using traditional methods of vinification before extracting the alcoholic part in order to conserve the aromas. We therefore use relatively aromatic grape varieties with high ripeness levels to produce the wine. It is then de-alcoholized using a system known as the spinning cone column. It is this vast centrifuge that extracts the alcohol.
Ok, and we then find ourselves with a wine that no longer has any alcohol content. Philippe Faure-Brac, is this a good thing or a bad thing in your opinion ?
How Mathilde explains it makes perfect sense.
And this process works well? Is it the Pierre Chavin range or a separate brand ?
The brand is called Pierre Zéro.
Could you give us an idea of quantity, in terms of how many bottles are sold per year ?
Yes, the process works very well and this range now counts for 1/3 of our business.
Who buys it?
Elderly people, pregnant and breastfeeding women, consumers who respect religious traditions yet want to enjoy the social aspect of drinking wine.
How is it sold?
We sell a lot on the export market as well as in France.
Where can we find your wines ?
On the internet, on our online shop.
Other distribution networks as well, such as wine shops ?
Yes, also.
Which companies stock your wines ?
It's generally small, independent wine shops and not necessarily well-known companies. We are not present on the French mass retail market, although we are present on the export mass retail market.
Is that because you have not succeeded in accessing the French mass retail market yet ?
No, it's because we are 95% centralized on the export market.
Do you sell to your former employer, the Systembolaget group in Sweden?
I was going to mention that we have just had a big tasting with the buyer and category manager there. We also sell a lot to Finland and, seeing as there is no alcohol content, we do not have to go through the monopole but rather are able to sell directly to the mass retail network itself.
I had the opportunity to taste Mathilde's wines on another occasion recently. It is both a strange yet interesting experience. Strange, as the alcohol content is usually what gives a wine its volume on the palate. Interesting, because these alcohol-free wines nevertheless succeed in retaining the aromas and traditional flavors of a wine. It is something quite different and it's true that there is plenty of scope for the concept of food and wine pairing. It is very easy to drink and very easy to open up a bottle just for the pleasure of tasting it.
Is it available in all 3 colors Mathilde ?
Yes we have a still range which adheres to the traditional wine vocabulary. We also produce sparkling wines in white and rosé.
There is another market that you haven't mentioned yet. What about children? Who exactly can have access to this alcohol-free drink ?
You're completely right. In fact my own children like to open a bottle for their apéritif. They love it !
Is it true that you created these non-alcoholic wines when you were pregnant ?
Yes, just for the anecdote, I have two little girls very close together in age and I breastfed them for long periods which meant that I could not drink alcohol for pretty much 4 years. This was very difficult for a woman who loves her wine.
And it was during this time that you came up with this idea.
We began our research a long time ago as it is very complex to make a wine with no alcohol.
Thank you very much Mathilde.